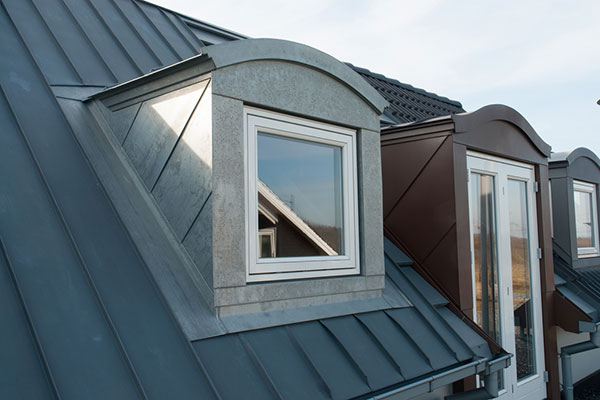 The roofing industry has been completely reinvigorated with the introduction of durable metal made to resemble attractive clay, wood, and stone. Similar to the way vinyl flooring is created to take on the appearance of other materials, metal styles have become versatile enough to suit every home. Our goal is to change the perception of metal roofs to prove that there is a solution for every architectural style. Tri County Exteriors has the most experienced roofing crew in the business, ready to show you what we can do for your home.
METAL ROOFING MATERIALS
Three options that we offer include steel, copper, and aluminum roofing with varying specifications. Steel is given a layer of coating and paint finish to prevent rusting when exposed to the outdoor moisture. Either a mixture of zinc and aluminum, or zinc alone, is applied in varying thickness to provide longevity of the product. Aluminum is a bit more weather-resistant, but it is treated with a paint coating. Copper is the most natural product because it is resistant to corrosion, no matter what conditions it is exposed to regularly. Our experienced roofers will offer products that are the most appropriate according to the type of building and any special needs of the location.
METAL ROOFING TEXTURES AND FINISHES
In the production phase, metal products can be formed into shapes that resemble stylish shingles and tiles. They often feature easy interlocking panels with discreet fasteners for a very sleek appearance once installed. Although the metallic look is always an option, there are so many coating and finish options that deviate from the traditional style.
BENEFITS OF METAL ROOFING
The positive aspects of metal are not limited to the obvious advantage of longevity. Consider the convenience of having a roof that has a warranty for 50 years or longer without requiring a replacement. This guarantee more than makes up for the initial investment when it's possible to avoid paying for expensive repairs and re-roofing jobs. If you ever plan to put your home back on the market, sellers can anticipate an average of 6% value increase compared to rival asphalt shingles.

In some situations, metal can be installed on top of old roofs rather than requiring the existing material to be torn down. Other roofs are susceptible to ignition and spreading fire, but metal effectively resists catching. This is a major advantage in areas that are susceptible to wild fires because some insurance companies offer a discount.

When coated with a layer of "cool pigments", the roof actually reflects solar energy rather than radiating heat into the home. Almost all manufacturers work with recycled materials so the environmentally conscious can feel good about choosing a material that can be recycled again in the future.
MYTHS ABOUT METAL ROOFS
Homes with a metal roof are colder during the winter – A properly designed house actually relies on attic ventilation to protect from outdoor temperatures. The roof has absolutely no effect one way or another on the temperature inside the home.
It is impossible to walk on the roof – Anyone that intends to step on the metal must understand the safe way to do so. As long as you follow manufacturer specifications, it is completely possible to walk on the metal.
It is susceptible to damage from falling hail – Only under very extreme conditions would you need to worry about acquiring dents in the material. Textured roofs add an additional layer of protection from the appearance of dents should they occur.
Lightning is attracted to a metal roof – Although it is scientifically proven that metal conducts electricity, it is completely inaccurate that electricity would be drawn toward it.
They are very noisy during rainy weather – Not only is this untrue, sometimes it is actually quieter than other materials
METAL ROOFING MANUFACTURERS WE CARRY
When you trust Tri County Exteriors to provide an exceptional installation, it's important that the materials are equally top notch. All of the roofing manufacturers listed below offer exceptional products with environmental awareness that we are proud to stand behind.
ALLMET ROOFING
Allmet Roofing is a manufacturer with 25 years of industry experience providing stone coated steel roofing material in a multitude of styles. The sustainable products are insured under a lifetime limited warranty or 50 year transferrable warranty. Click the links below to view the latest Allmet Brochures:
Allmet Signature Brochure | Allmet Shingle Brochure | Allmet Commercial Brochure
ATAS INTERNATIONAL, INC.
ATAS International, Inc. emphasizes residential and commercial roofing solutions in over 20 different material profiles. Products include the cooling benefit of energy efficient technology that utilizes solar energy for preheated ventilation.
CLASSIC METAL ROOFING SYSTEMS
Classic Metal Roofing Systems has been providing beautiful residential solutions for more than 30 years. By utilizing the knowledge of industry trends, customers experience the benefit of getting the latest products available from a caring manufacturer.
INTERLOCK ROOFING
Interlock Roofing started from the ground up 30 years ago distributing exceptionally durable systems. Only using the finest metal provides customers the peace of mind choosing a product that is going to last for a very long time.
TAMKO
Tamko was established in 1944, creating products that feature the durability of steel with the stunning aesthetic advantage of a slate finish. Constantly evolving alongside 70 years of new trends has helped to create products that truly meet consumer needs.
AMERICAN METAL ROOFS
American Metal Roofs in Wisconsin and Michigan offers different materials that feature many styles and beneficial product finishes. Standing behind integrity in honorable core values has enabled the company to serve communities for many years.
EDCO
EDCO is a Minnesota based company offering an exceptional selection of trend-setting steel materials. Standing behind product quality has driven this business to the forefront of manufacturing since establishment in 1946.
No matter what your roofing needs, Tri County Exteriors has a team of professionals that are ready to take on the most complex jobs. Give us a call or fill out the form to schedule an appointment today!
---
ANOTHER SATISFIED CUSTOMER: ★★★★★
"Tri-County has been a go-to for our family whenever we need something done to our home. Whether we just went through a bad storm and need a small repair completed, or need to spruce up the exterior (of our past home) to ready it for sale. When we move into our new home, Tri-County will continue to stay our dependable contractor for every upcoming exterior project!" – Mike B.
More Reviews from Satisfied Customers
---