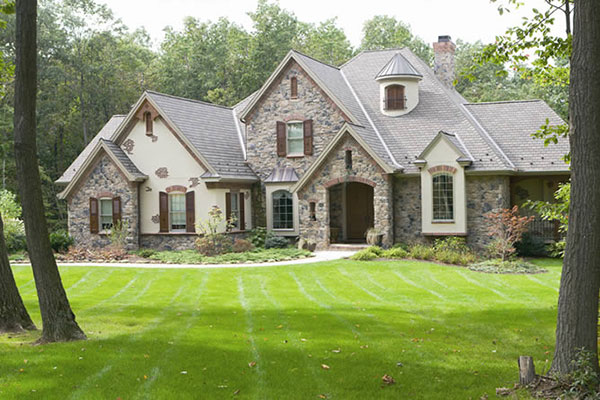 Stone masonry is an ancient art, passed down from generation to generation. The craft requires skilled cutting, trimming and placement. Lancaster Stone Company understands the importance of craftsmanship in this field and they are dedicated to maintaining that time-honored tradition. They build a relationship with each homeowner, contractor and builder, continuing a tradition of experience that has created their reputation as talented artisans.
STONE TYPES
Lancaster Stone offers different options in stonework. Craftsman can create the perfect look using blending techniques that merge different types of stones together for a unique look. Cobblestone creates a more traditional look with rectangular stones shaped by masons with experience in older stonework techniques.

Dry Ledge is easier to install than other types of stone and is more dimensional in size. Dry Stack is reminiscent of the walls, bridges and fences from years ago with no mortar joints. As far back as the 1700s, stonemasons created foundations using fieldstone, a hard stone with grain throughout. Today, fieldstone gives a project an old-world look that is more traditional than other types of stone. However, if you truly want the look of yesteryear, the new Mountain Series is perfect as it captures the essence of stonework from the 1800s.
BUSINESS APPLICATIONS
In addition to many residential application, Lancaster Stone has a wide range of stone available for commercial installations as well. Stone gives customers the impression of strength, reliability and integrity. Many businesses are discovering the benefits of stone veneer which is a less costly method for creating a strong, stone-covered façade. Stone veneer is lighter and requires less maintenance than stone as well.
SIGNAGE THAT ATTRACTS
When you advertise your business, you want it to stand out among other signage in the area. Consider creating a sign using stone veneer. Stone catches the eye of people passing by more quickly than wood or metal signs. Marketing is stronger as stone sets a tone of strength and integrity, promoting your business with a feeling of permanence.
FIREPLACES

Whether you are looking for a sleek, modern look to your fireplace or you want something more traditional, Lancaster Stone has products that will make your fireplace stand out. Create a fireplace that makes a statement and becomes a focal point in the room. With more than 50 colors and six styles, there is a stone available to fit any decorating style.
ACCESSORIES AND OPTIONS
The possibilities are endless when it comes to using stone. Over centuries, stone has been used to create buildings that were secure and would last for many years. Technology has allowed the craft to expand with newer cements, mortars and stone manufacturing that allow you to create a unique look to any stone project. Add a brick sill to a stone wall or attach period-relevant light fixtures. You can choose from steps, bricks with hose-bib cutouts, date stones and many other accessories to create a look that is uniquely your own.
COLOR VARIETY
You are not limited to just gray, brown or white stone any longer. Today, the color options are almost endless. You can even mix and match colors to create a truly unique look to any stone project. Lancaster Stone Company is constantly trying to expand their stone colors so that you find something truly unique and exciting for whatever project you are completing.
If you are considering stone for a building project, Lancaster Stone Company is one of your best options. Their stone is attractive and affordable while also being easier to install than that of their competitors. If you would like to learn more about their products, contact us today by phone or online.