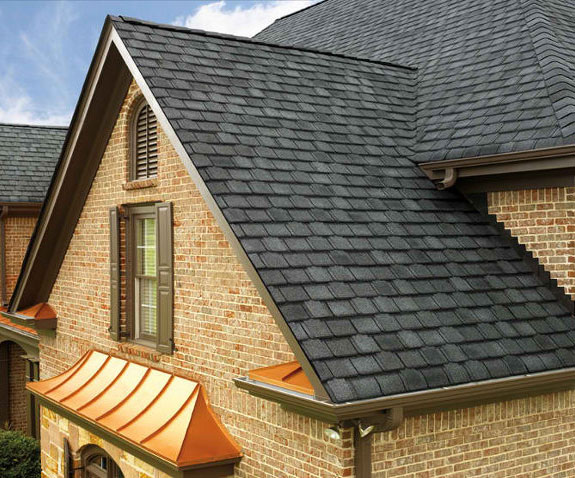 Asphalt shingles are easily the most frequently used roofing material found in residential areas. Easy installation, a moderate price point, and unmatched versatility are only a few reasons to choose asphalt over other roofing materials. Especially when you work exclusively with products manufactured by the top brands in the roofing industry such as:
Certain Teed
GAF
Owens Corning
While replacing a roof can be a big, important decision, it also helps protect your biggest investment-your home.
WHAT YOU NEED TO KNOW ABOUT ASPHALT SHINGLES
The basic composition of asphalt shingles is a base layer of fiberglass or cellulose. Fiberglass is the most popular choice, but there are advantages to choosing the other option as well.

The next layer is an asphalt mixture that is basically supported by the backing material. At the top of the shingle is a layer if granules that offer protection from sunlight and weather exposure.

Understanding the basic composition of a shingle will help you get started making smart decisions about a new roof.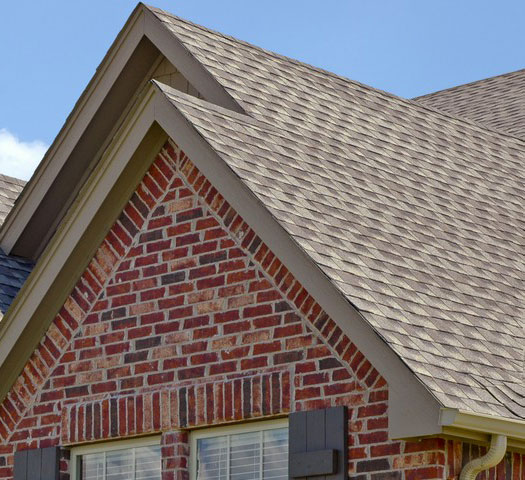 DURABILITY AND COST OF ASPHALT SHINGLES
Asphalt shingles are a great value product with a wide range of options to select from. It's easy to find a solution that fits budget, even if you are working with moderate resources. Also keep in mind that finance options are available with approved credit. Asphalt is not completely resistant to all damage, but most shingles offer plenty of protective benefits that you can appreciate. If hail is a major problem in your area, asphalt offers the most impact-resistance to prevent cracking. There is a 1 to 4 rating to follow if you want to ensure that you get the highest level of protection when needed.

Installing class 4 shingles might even help you qualify for a discount on your home insurance policy. Another common source of damage is the growth of algae in wet or humid climates. Granules covering each shingle prevent growth, and some products are also coated with special additive deterrents.

It is expected that an asphalt roof will last anywhere between 15 and 30 years, with heavy emphasis on environmental factors in your local area.

High heat, sudden temperature changes, and extreme cold can cause significant wear that will eventually compromise the protection of the shingles.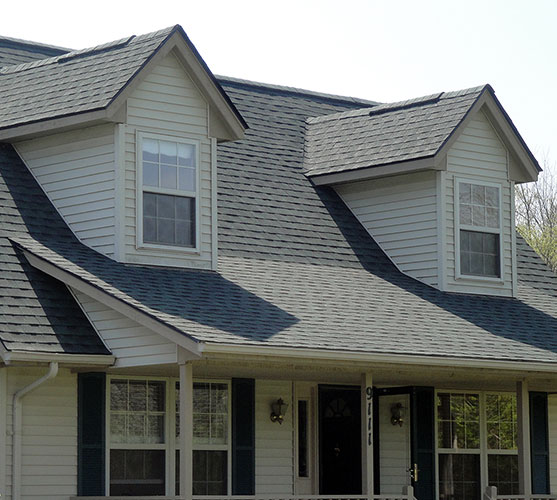 ASPHALT SHINGLE STYLE AND COLOR
The style of premium shingles has come a long way as far as the aesthetic design. With the proper professional installation, it's quite difficult to identify some asphalt products. These premium designer shingles are made to convincingly resemble the physical characteristics of authentic wood, slate, and tile materials. The only real difference is that you can have a great looking roof with the same benefits offered by asphalt.

Cool-roof technology is another design benefit that a lot of homeowners look for when they're replacing their roof. By effectively reducing the amount of heat that the roof can absorb, the cost of cooling the home is going to reduce significantly. CertainTeed, Owens Corning, and GAF are exceptional manufacturers that offer energy-saving shingles within their product line. It's common to see the energy efficient shingles featuring a light color, such as tan or light brown, to help reflect the sun's rays and reduce the temperature.

Aside from some limitations with cool roofing, there are plenty of colors and shades to suit any home style. The majority of asphalt roofs are a solid shade of gray, brown, or blue that is uniform throughout the surface. Other looks that you might like include the unique weathered look applied to a vintage style, or a cohesive mixture of light and dark tones.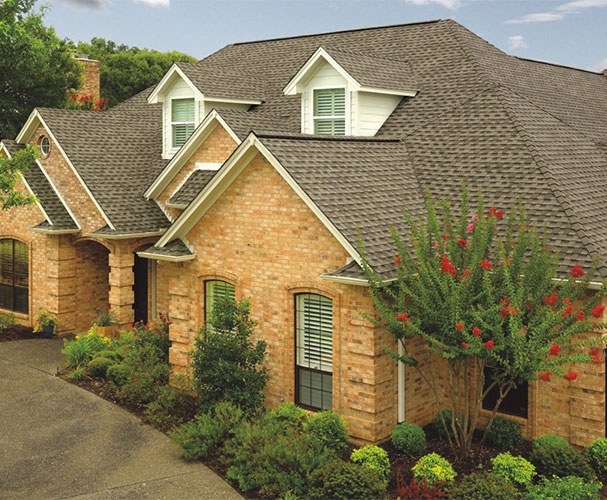 FIBERGLASS OR ORGANIC SHINGLES
Fiberglass features multiple layers of protection that begins with a base mat of woven fiberglass. It is topped by a waterproof coating of asphalt that is covered with protective ceramic granules that reflect UV rays.

The fiberglass base contributes to the lighter weight because less asphalt is required to build the strength of the product. You will usually find that fiberglass has a longer warranty because they are less likely to warp over the years. It also has the highest available class of fire rating, which is especially useful if your home is located in an area that may experience wildfires.

Organic shingles are typically a less attractive option because they are heavy and thick.

There is actually 40% more asphalt per shingle when compared directly to fiberglass. The shingle begins with a base of recycled felt paper that is saturated with asphalt. A top coat of adhesive asphalt is added to the surface to embed the protective ceramic granules. They are flexible and absorbent, so a few years of weather exposure will inevitably cause damage and warping.
THERE ARE THREE MAIN CLASSIFICATIONS OF ASPHALT ROOFING SHINGLES AVAILABLE:
Three-tab shingles feature uniform cutouts along the bottom edge to mimic the look of three separate pieces. They're very popular because it's the most economical option and very easy to install.

Dimensional asphalt roofing shingles provide a thicker, sturdier appearance because it's a heavier product. The multi-dimensional roof a very attractive option, and the product warranty is a major improvement over strip roofing shingles.

Premium asphalt roofing shingles are a variation of the traditional asphalt aesthetic, featuring styles that mimic other materials. The enhanced shingles are so similar to slate or wood that no one will be able to tell the difference. Some products feature additional functional benefits, such as improved insulation, a reflective surface, or impact resistance.
HOW TO DECIDE
The first thing that any professional is going to recommend when choosing a material for a new roof is to look at the existing roof. It's usually the easiest option to stick with the same material so that you do not have to deal with weight or quality changes. If you truly want to switch to a different product, the installation cost may be higher, but it will be worth the investment.

A few other things that should help you make a decision should be the warranty, material cost, weight, durability, life expectancy, and any bonus features that are available.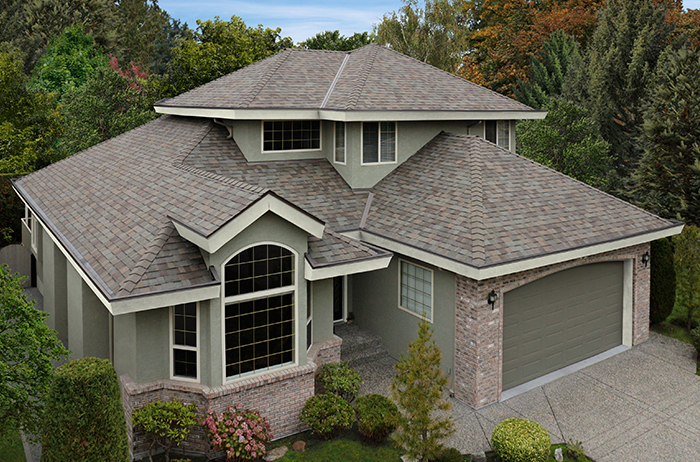 UNPARALLELED CUSTOMER SERVICE
At Tri-County Exteriors, we want every one of our customers to feel confident in the way that we complete each job. From start to finish, our team is there to answer questions and help you make informed decisions before you invest money into a project. There is no commitment if you would like to receive a personal estimate, and you can rely on the fact that we only recommend what is necessary. We don't believe in up-selling products or tacking on hidden fees at the last minute to make a quick profit. Our reputation for customer satisfaction is very important to us, and we always do everything possible to provide the very best. If you're ready to make decisions about your roofing project, fill out our contact form so that one of our representatives can set up a visit to your home.
---
---
ANOTHER SATISFIED CUSTOMER: ★★★★★
"Tri-County Exteriors gave us a better roof at a better price than any of the other quotes we received. They were professional, thorough and easy to work with. They cleaned everything up and even left us extra shingles in case of future tree damage." – Sandra
More Reviews from Satisfied Customers
---