ProVia cares about the details. As a faith-based business, their vision is to provide customers with the service, commitment and dedication they would provide to their own family. The company began in a Bill Mullet's garage more than 35 years ago in the heart of Amish country in Ohio. Today, the company, which began as a door and window company, is also a leader in stone.
DRY STACK STONE
The Dry Stack collection adds a variety of colors to your stonework. Each stone is carefully selected and the different thicknesses fit together to form a unique look. The colors range from grey to charcoal to plum, creating a look that suits almost any style or décor. You can also further customize your look with different colors of grout.
FIELDSTONE VENEER
Take a stroll through small villages in Pennsylvania, New York or other mid-Atlantic states and you will see evidence of fieldstone in houses that are both new and old. ProVia has stone veneer that looks and feels exactly like the fieldstone used for centuries as a decorative addition. It looks rich and natural, with rugged texture and irregular shaped stones.
LEDGESTONE MANUFACTURED STONE
The rough surface and jagged edges of the Ledgestone collection adds a touch of southeastern charm to any project. The dimensions create dramatic shadows that can change with the position of the sun. The manufactured stone looks surprisingly realistic, as if nature created every facet of every stone.
LIMESTONE VENEER
Limestone is stone veneer panels replicated from stones that are found in the Midwest. The stones are roughly chiseled, square and rectangle, perfect for many different decorating styles. This type of stonework has been found in homes as far back as the colonial period, demonstrating its timeless beauty over the ages.
NATURAL CUT
A Heritage stone original, Natural Cut offers large surfaces with natural textures. The stone gives off the feeling of the Old World and is available in three beautiful colors based in Earth tones. The look is so natural, it will appear as if crafted artisans laid each stone by hand, fitting them together perfectly.
PRECISIONFIT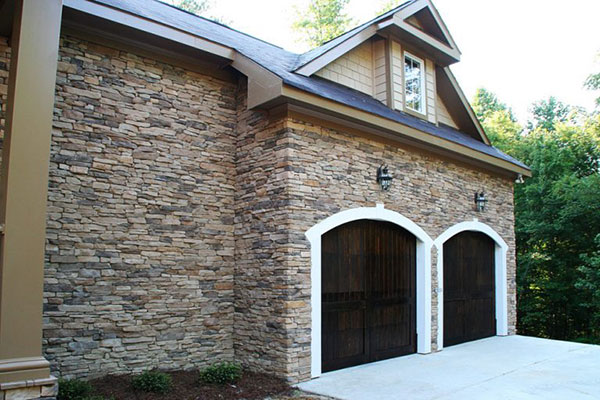 If you are seeking a more contemporary look, PrecisionFit Stone Veneer Panels may be the best option. The stone veneer has a realistic texture but plenty of character and is available in several natural colors. You can choose the light Adobe Sands, clay-colored Driftwood or the stunning Sage Gray.
RIVER ROCK VENEER
Inspired by rocks found on the bed of flowing rivers and streams, River Rock veneer is available in stone veneer panels that will add beauty to your project. The stones are smooth and rounded, as if water had been flowing over them for centuries. Choose from either the Michigan or Mountain style, depending on the look you are trying to achieve.
TERRA CUT
The Terra Cut collection is a Heritage exclusive, providing the look of weatherworn coral stones. The manufactured stone provides texture while the coarseness of the stone adds multiple dimensions in each stone. The stone is available in Slate, Russet or Summit, providing you with several color palate options depending on your project.
If you would like to learn more about using stone for your project or about ProVia, contact us today. Our experienced customer service staff can help you choose the perfect stone for your needs. Find us online or give us a call today.