PROFESSIONAL CUSTOM DECK INSTALLATION AND REPAIR
A budget-friendly deck crafted to your preference in material and style along with our team's expertise is sure to give your family an addition that will be enjoyed for years. Whether you need a deck to surround your pool, or simply want a platform deck for entertaining, we are ready to bring your ideas to life.

Do you see the deck of your dreams when you look out your back door? Tri County Exterior's team of deck installers can improve the look and overall quality of your backyard. We have been building amazingly beautiful decks for years. We offer our customers a wide variety of styles, manufacturers, and materials to choose from. You can let us know any preferences you have in mind, or we can show you the options we recommend for your property. Whatever your decision we can ensure that you will end up with master craftsmanship and a beautiful deck that you can enjoy for many years to come.

Our team of professionals will work with you every step of the way helping with choosing materials, working within your budget. We realize this home addition needs to be affordable yet impressive, and that's what we strive to offer.
TYPES OF DECKS:
Freestanding Decks – Because freestanding decks are not attached to the house, they are perfect for highlighting the best areas of your yard. Freestanding decks become natural extensions of the landscape when placed in a shady glade or overlooking a beautiful garden.
Multilevel Decks – Multilevel decks are a series of decks connected by stairways or walkways. These decks are perfect for sloped lots because the deck areas follow the contours of the land.
Platform Decks – Platform decks are the simplest deck style. They are usually built on level lots and attached to single-level dwellings. Railings often are not necessary because these decks are so low to the ground.
Pool or Spa Deck – Decking is a smart choice around a pool, because it's slip resistant and won't scorch swimmers' feet, like stone or concrete can. The warmth of wood decking makes it a natural surround for a koi pond or pool.
Two-Story Decks – Two-story decks provide outdoor access to the upper levels of your home.
TYPES OF DECKING MATERIAL: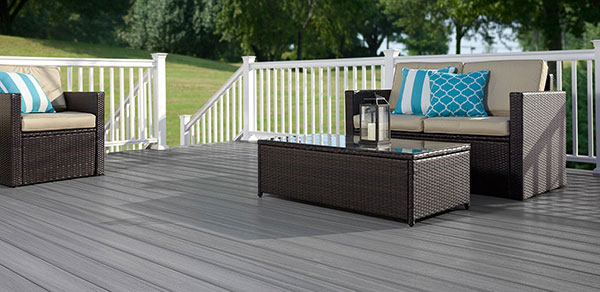 Cedar and Redwood – These woods contain natural defenses against rot and insects, and should last around 20 years. Red cedar and redwood are both lightweight and stiff. Lighter-colored Port Orford Cedar is the hardest and most wear-resistant cedar.
Composite Deck – Made of wood fiber combined with recycled polyethylene, composite decking is a good-looking, low-maintenance material. Composites come in a broad range of colors and textures that closely approximate real wood.
Ipe (Ironwood) – A popular South American hardwood, Ipe is beautiful, naturally resistant to rot, and durable. It's also extremely hard, making installation labor-intensive. To maintain its rich appearance, ipe must be sealed every year. It can last 25 years or more.
Pressure Treated (PT) Southern Yellow Pine – Because platform decks are close to the ground, it's important that the material is protected from the elements. All structural materials should be pressure-treated or rated for direct ground contact. Also, all materials need at least two coats of protective sealer before they are installed to preserve the undersides.
Tigerwood (Goncalo Alves) – one of the finest quality hardwoods available that features a unique light golden-brown to reddish-brown coloring with exotic black and brown streaks. Tigerwood is naturally resistant to rot and decay which results in a 30+ year lifespan without preservatives.
The deck of your dreams could be yours with our team here at TriCounty Exteriors. Add the finishing touch to your backyard with one of our beautiful decks. Get your free estimate today by filling out our quick contact form, or call us directly at (215) 602-4379