STONE VENEER ADVANTAGES FOR RESIDENTIAL DEVELOPERS
December 17, 2019
EXTERIOR REMODELING OFFERS LARGEST RETURN ON INVESTMENT IN 2014!
December 19, 2019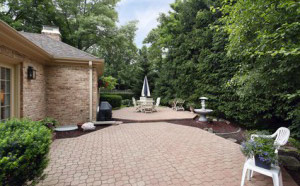 Patio materials provide a wide array of choices. It is hard to concentrate on just a few colors and styles of patio materials when there are so many to choose from. The following tips will help narrow anyone's focus so they can move to the designing stage of a Concrete Patio or other selection more quickly.
Creative Concrete
A concrete patio is popular because it is inexpensive when compared with other options. Its appearance can be changed from a boring, unassuming grey slab to brick like shapes, decorative colors with chips of glass, or an exposed aggregate. It works best in frost-free zones where the soil is free from heaving. Mandatory maintenance includes coating reapplication every two years to maintain the color. Surface cracks and faded colors in areas with heavy traffic are other problems with this choice.
Decorative Stone
The beauty of natural stone overcomes the expense of quarrying, transportation, and installation. Slabs of flagstone or limestone vary in thickness and must be placed on an individual basis. Reduce the stress of making a decision by choosing the same stone that adds beauty to the house. Trouble-free maintenance and the long life of a stone patio compensate for the cost.
Beautiful Brick
The warmth and appeal of a brick patio is quickly doused when homeowners discover its problems. The porous material holds moisture, causing cracks when the temperature drops below freezing. It also causes ice and adds the danger of slipping. Maintenance includes replacing broken bricks and frequent scrubbing to kill the slippery moss that grows on the bricks in both sunny and shady areas.
Perfect Pavers
Beauty and affordability are the mark of today's diversified patio materials. Manufactured pavers are available in many colors, shapes, and patterns. Identical thickness reduces the cost and time of installation. They have a long life, with easy to replace individual pieces in the event of breakage or staining.
Hardscaping is a fascinating part of landscaping that includes projects like retaining walls, ponds, decks, and patios. Professional guidance and installation is the best way to get the patio that fits a person's home and expectations. For more information about patio materials, costs, and styles, contact Tri-County Exteriors at www.Tri-Countyexteriors.com today.