4 SUMMER PROJECTS FOR THE EXTERIOR OF YOUR HOME
December 23, 2019
5 THINGS TO LOOK FOR WHEN CHOOSING A ROOFING CONTRACTOR
December 25, 2019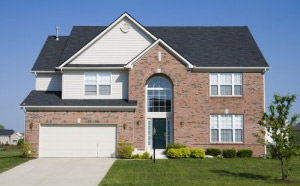 It's no secret that asphalt shingles are incredible popular in home applications. Compared to wood shakes, slate, tile, and other roofing materials, it stands up as the most favorable option on the market. The material itself is economical, easy to install, and comes in many different styles to match any home.
Base Materials
Fiberglass is one of only two asphalt shingle variations, with the other being traditional organic material. It is created with a base mat of woven fiberglass that is coated with waterproof asphalt. Ceramic granules cover the top layer for added protection against ultraviolet rays. Less asphalt is used to give this product superior durability and strength because of the fiberglass mat. The benefit is a thinner and lighter roofing material that has a longer warranty than the organic option.
Organic mat shingles make use of recycled felt paper that is saturated with asphalt for an element of waterproofing. Adhesive asphalt coats the outer layer to embed ceramic granules to the surface. The increase in actual asphalt used in composition makes organic shingles more expensive, heavy, and thick in comparison. They are less environmentally friendly due to the asphalt content and they can warp over time as they absorb moisture.
Shingle Types
Shingle TypeThe measurement of these materials is a standard 12 x 36 inches, regardless if they are architectural or three-tab shingles. The architectural shingles featured a laminated layer in the bottom portion and are completely uniform to provide a dimensional, contoured look once applied. Special sealant bonds the layers together and improves the capability of waterproofing as reinforcement. They are susceptible to damage from wind-driven rain so it is not recommended to use in a low-sloping roof design.
Three-tab shingles feature cutouts along the lower edge to create the appearance of separate pieces when in reality it is only one. The results of this style do appear flat, but they are more economical and popular than the architectural option.
Style and Color
Asphalt shingles have truly come a long way from their traditional style, with current options that are designed to mimic other roofing materials. Shapes vary from scalloped-edges to the square appearance of a Colonial style home. There are more options than ever to create a unique looking roof with the benefits of asphalt shingles.
Color variations fit any style of home, with tones ranging from shades of blue to neutral grays. Rather than feature a solid, flat color there are more options that mix different tones in a single shingle. There is even the option to select a weathered look that features the charm of a vintage home with the durability of a new structure. Additional style benefits include the introduction of cool-roof technology to resist heat and boost the effort to save energy.
Durability and Cost
The guarantee of life when using asphalt shingles ranges between 15 and 30 years depending on environmental factors in the area of application. Long summers with exceptionally high temperatures will cause a roof to wear down much faster than in a relatively cool climate. Sudden temperature spikes are very harmful to asphalt because it can cause tiny cracks that can grow into bigger problems.
Shingle life can be increased when used in a steep roof pitch that allows for fast water draining. The less moisture and ice can remain on the surface of a roof, the longer it can hold up against potentially destructive conditions. Subtropical areas that are often damp create susceptibility to developing fungus and algae on the surface. It is possible to use shingles that are resistant to algae if this is a concern so that damage and discoloration is less likely, but the materials will come at a higher cost.
Asphalt shingles are the least expensive in terms of installation cost because it is the easiest material to apply. Finding a decent price may require multiple estimates because the labor fees can vary greatly from contractor to contractor. The materials themselves generally cost a little above or below $1 for each square foot, with an average equaling $100 for every 100 square feet.
If you are in the process of considering a new roof, give us a call to get an estimate on asphalt shingles exclusive to the style of your choosing. We are more than happy to provide multiple options for you to compare before making a decision. Follow my blog with Bloglovin