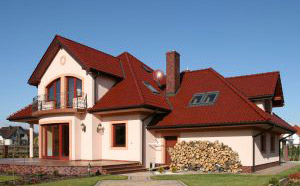 Your roof plays a key role in your home's value as it protects it from the elements and offers insulation from hot or cold air.
When you are building a house, you may have the option of a pitched or flat roof but you may have no idea which option is better.
There are five main reasons why a pitched roof is the better option, even though they are often more expensive than flat roofs.
Longer Lasting
Pitched roofs have a longer life than flat roofs and are much easier to fix. Like everything in your home, your roof can suffer wear and tear, especially since it is exposed to the elements at all times. The materials used for pitched roofs tend to be more durable and resistant to weather. This means that, although flat roofs may cost less initially, a pitched roof is less expensive for the long term.
Better in Inclement Weather
In areas of the world that receive a significant amount of ice and snow, you will notice that the roofs are often steeply pitched. This allows snow, ice and rain to drain from the roof easily, preventing damage. Flat roofs do not drain as well and must be inspected regularly to be sure any drains installed are working properly.
Ground-Level Inspection
It is easier to inspect a pitched roof from the ground, allowing you to identify problems before they become big issues. Unseen roof damage can lead to extensive water damage inside your attic or around flashing that separates roofing materials from skylights, chimneys or other fixtures. However, if you do need to access the roof for inspection, a pitched roof is much more difficult to stand on than a flat roof. You may want to consider hiring a specialist to inspect the roof if yours has a steep pitch.
Better Storage Options
A pitched roof gives you the opportunity to include an attic in your home design. Most pitched roofs allow ample space at the top of the house for an attic or even a cozy loft bedroom or office. If you begin using the attic area for storage, it is not difficult to convert the space to finished room in the future.
Whether you choose a pitched for flat roof, there are many options available for roofing materials, including composition dimensional, asphalt and wood shingles. You can select a material that will not only protect your home but also match the design of your home's exterior. If you are considering replacing your roof, contact us today to learn what options are available. You can speak to one of our friendly customer service representatives by phone or complete the simple form online to learn more about our roofing products.