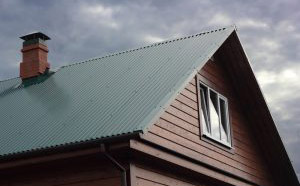 When your home is energy efficient, it will be cooler while also allowing you to enjoy lower utility costs. Installing a metal roof on your home can greatly impact your energy use while giving you a roof that may last for 50 years or longer. Metal roofs have become increasingly popular because they are highly durable and cost-effective. They are lighter in weight than asphalt and other roofing materials and are less likely to sustain damage from hail. Choosing to install a metal roof on your home can provide you with a fast return on your investment with ongoing energy savings for your roof's life.
What is a cool roof?
Cool roofs are roofs that help to keep interior temperatures lower. They are typically light-colored or white, and they are designed to reflect heat rather than absorbing it. They have high solar reflectivity and thermal emittance. Since metal absorbs little heat and releases it quickly, it is ideal to use as a roofing material. On the other hand, asphalt roofs absorb heat, which leads it to build up rather than being released.
There are other features of cool metal roofs that help to keep the interior temperatures comfortable. They have protective coatings with a number of different reflective materials that work to help with deflecting the sun's rays. The highest reflective coatings that are used can help to reflect as much as 90 percent of solar radiation away from your home.
Cool roofs, Energy Star & LEED ratings
The Environmental Protection Agency's Energy Star program allows cool roofs to be rated as Energy Star. For this rating, a roof must be a cool roof that helps to reduce heat effects. Steep-slope roofs must have a minimum solar reflectance of 0.25 when they are first installed. After three years, the minimum must be at least 0.15. Low-slope roofs must have a minimum reflectance of 0.65 when they are first installed. After three years, the minimum must be 0.50.
LEED certifications are also used to help you to determine your home's energy efficiency. The LEED certification is granted by the Green Building Council. Builders and designers earn points toward LEED certification by using certain designs and materials that meet a specified Solar Reflectance Index, or SRI. Cool roofs are materials that earn points because of their energy efficiency and because they are recyclable. Steep-slope roofs must have a minimum SRI of 29 for LEED certification. Low-slope roofs must have a minimum SRI of 78. The roof must also cover a minimum of 75 percent of the surface area not counting skylights, equipment and parapets.
Sustainability
Most metal roofs are made out of steel, a highly sustainable material. It is 100 percent recyclable and may be made out of as much as 95 percent recycled steel. Using recycled steel to create new steel takes just 25 percent of the energy that it takes to create virgin steel.
Discounts and incentives
If you install a metal roof, you may receive a discount on your homeowner's insurance because of its fire resistance and durability. You can also expect your utility bills to be reduced by as much as 40 percent each year. Finally, you may be eligible to claim tax credits for installing a metal roof.
Variety
Manufacturers are able to create cool roofs in the shade you want although light colors or white will be needed to obtain the highest solar reflectance. The roofs can be formed to look like a traditional shake or asphalt roof. You can also choose to use the standing seam style because it sheds water well and is perfect for an installation of solar panels.
Installation
You will need to make certain that the professional who you are considering is one who has the expertise that is required to replace your roof with a cool metal roof. Installing metal roofs requires specialized skills. The company you choose needs to be knowledgeable about metal roof materials, local codes and the standards in your area. It is possible to install a metal roof on top of shingles if it is needed because the metal roofs are light in weight.
As people have become more aware of the environmental impact structures can have, new green-living initiatives have been instituted. A metal roof is something that you should definitely consider for your home.