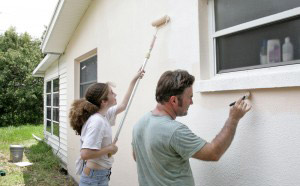 The outside of a home is the first impression that every person will get, especially if you're trying to sell. Interior renovations and decorating often take the first priority to enhance the feeling inside the home.
An updated exterior is not a major expense, but it has the potential to make a tremendous improvement to the home's curb appeal. Start with one of the most popular color schemes to make your house more attractive.
Traditional Black and White
It's hard to go wrong with a classic exterior color that stands out against contrasting accents. Start the project with a clean white or off-white and find ways to incorporate solid black trim or shutters for a great look.
With these colors, it's easy to find matching fixtures and other exterior features without trying to find the right hues and shades.
Earthy Green and Brown
Colors that are found in nature are smart for the exterior of a home because they look great with outdoor landscape features. Darker shades are usually recommended in established neighborhoods so that you do not end up with a house that stands out for the wrong reasons.
If you do want to feature a splash of another hue, use opposite colors on the color wheel. Remember to use bold colors very conservatively and use the neighbors as a reference if needed.
Shades of Blue
Different emotions are brought out when in the presence of certain colors, like the calmness that comes with shades of blue. A light or dark blue paint can be easily accented with gray tones, but be aware that it isn't always a safe exterior choice.
It's not considered an earthy color so stick within a grayish blend rather than select a pure blue for your walls. When in doubt, get the advice of an expert to find an appealing shade of blue for the home.
Neutral Tones
The easiest color type to work with on an exterior is neutrals, like a cream or taupe. It's a great place to start cleaning up the main walls so that striking colors can be added to the front door, shutters, or window trim.
Enhancing curb appeal is easy if you keep in mind that every person is not going to have the same taste. A classy color is always smart, and the neighbors will definitely appreciate the effort to stick with a safe choice.
The exterior paint combinations mentioned are going to give you a great place to begin planning your project. Not only a fresh coat of paint increase value, a smart color choice is going to make your home look practical and stylish.