SKYLIGHTS- WHAT YOU NEED TO KNOW
November 30, 2019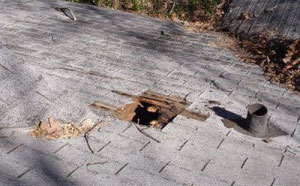 EMERGENCY ROOFING TIPS FOR PHILADELPHIA
December 2, 2019
Taking care of chimneys is very important to keep a fireplace burning brightly and cleanly. With an educated eye and regular cleanings, homeowners can avoid the risk of expensive damage from water, animals or fire.
The top of a chimney is covered with a metal chimney cap. The cap keeps out animals and protects the chimney from the weather. The chimney chase is the part of the chimney that shows above the roof. The inside of the chimney, called the chimney flue, is open space, allowing smoke to flow out. The metal lining helps prevent fires.
The damper is a mechanism inside the entrance of the chimney that opens and closes, controlling the flow of smoke. The fireplace faces the inside of the house. It has a mantel, a face made of brick underneath, and a metal plate called a lintel that supports the face and the mantel bricks. The outer hearth and inner hearth form the "floor" of the firebox, where fires are built when the fireplace is in use. The inside of the firebox is made of fireproof brick. Some fireplaces have an ash pit underneath to collect ashes. The ash pit is usually accessible for cleaning from the outside of the house.
Regular chimney cleaning can prevent most fire hazards. Cleaning is recommended at least once every two years. Fires deposit creosote, a flammable black or brown tar, and soot inside the chimney that must be removed by professional chimney sweeps. Creosote is one of the biggest contributors to home fires involving a chimney or fireplace.
Homeowners can make a visual inspection of the outside of the chimney, the area around the chimney in the attic and inside the house to determine if there is visible structural, animal or water damage. Signs of problems include: cracks in the mortar, water stains, leaning of the chimney or house and peeling paint or wallpaper around the chimney.
When a chimney specialist finishes cleaning the chimney, they will examine the interior with a camera to determine if there is damage. These inspections are vital to make sure there are no gaps where fire can enter or animals living in the chimney.
Chimney repair should be an easy process, but to avoid scams always make sure the chimney specialist is certified. Be sure that they can provide real photographic evidence of the problem and explain the repairs needed. Always get multiple estimates on any repairs being considered. Taking these steps should keep the chimney clean and working optimally for many years.
For more guidance on chimney care click contact us.