TYPES OF EXTERIOR SIDING
December 12, 2019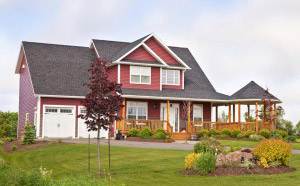 A NEW ROOF MAY BE CHEAPER THAN ROOF REPAIR IN THE LONG TERM
December 13, 2019
If a home is equipped with a deck, it is likely one of the most frequented places of the property. Decks are great for outdoor lunches/dinners, get-togethers, outdoor projects, and more. These are six ideas for lighting a deck so that it is not only useful, but also fun and inviting.
Lighting Ideas
1. Post Accent Lighting
Many homeowners go with post accent lights to keep their decks will-lit and useable at nighttime. This lighting option not only looks great, but the installation process is rather painless. This process only really requires finding post caps that fit the size of the posts on the deck, and lastly screwing them in place for stability.
2. Stair Lighting
Stair riser lights are also a popular choice when homeowners light the decks of their homes. Stair riser lights are inviting, and they also add a degree of safety. These lights specifically come in handy when stairs are located in particularly dark areas and they need to be traversed frequently.
3. Tiki Torches
Tiki torches are fun accents for outdoor barbeques, pool parties, or fun get-togethers. Tiki torches are quite versatile; they can either be planted right into the ground for stability, or they can be placed in planting pots so that they can be arranged around the deck. Additionally, some homeowners go as far as directly attaching them to deck posts using tools.
4. Fire Bowls
Fire bowls are great solutions for outdoor lighting, especially on decks. This type of light source is especially great for nights when you want to gather around an open fire with family/friends and roast marshmallows or hot dogs.
5. Candle Lanterns
Candle lanterns are a classic option for deck lighting, and they are relatively inexpensive to maintain. These types of lanterns can be hung around the deck, as well as placed intermittently on posts and surfaces. What's even better is that candle lanterns also make great bug repellants!
6. LED Lighting
Lastly, LED lights can make a bold and fun statement about an exterior deck. What's even better is that they can be customized by color, shape, and other attributes. Consider giving LED lights a look if the deck in question is likely going to be used for outdoor get-togethers and parties.
For help and information on getting started started with planning/installing lighting on a deck, be sure to check out to www.Tri-Countyexteriors.com.