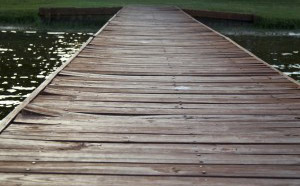 DECK SAFETY AND MAINTENANCE TIPS BEFORE SUMMER
December 11, 2019
6 IDEAS FOR LIGHTING YOUR DECK
December 12, 2019
Hot sun, bitter cold, rain and snow — your home's exterior is under constant barrage from the elements. Choosing the most appropriate exterior siding for your environment is crucial. Siding can be durable and tough without being ugly. Modern siding materials feature both longevity and looks for this key aspect of your dwelling. There are numerous factors that determine which type of siding is best, including eco-friendliness, maintenance requirements and price.
VINYL SIDING
Durable and tough, available in countless colors and styles, vinyl siding is a highly popular material that maintains shape and retains color despite extreme weather. If the home has pre-existing siding, a vinyl installation can retrofit over it. Depending on the brand, this siding has a lifetime guarantee that is transferable. Vinyl is easy to install and lasts more than 30 years.
METAL SIDING
Steel or aluminum siding is becoming somewhat "old-fashioned." Modern installations are fireproof, dent-resistant, bug-proof, and require zero maintenance. Metal siding can endure 50 years or longer. Dents in this type of siding are somewhat difficult to remedy.
FIBER-CEMENT SIDING
Portland cement, wood fibers, sand and clay are mixed together to create this type of siding. Fiber-cement is weather-resistant, fire-resistant, bug-proof, low-maintenance and extremely durable. This type of material can be molded to look like stucco, wood or masonry; it does not require painting yet can easily be repainted if desired. Fiber-cement typically lasts 30 years or more.
WOOD SIDING
There are various grades and selections of wood for siding. An expensive grade with a semi-transparent finish will show wood's desirable natural beauty. If the siding will be painted, a cheaper grade of wood is acceptable. This type of material is easy to cut, easy to install, and can last centuries. However, wood can require frequent re-finishing and repainting.
BRICK SIDING
Also known as masonry, brick siding is highly aesthetic and therefore quite popular. Masonry is extremely durable, but can deteriorate slightly at the joints (mortar-filled gaps in between each brick). A dwelling surrounded by masonry veneer can be markedly cooler during hot weather compared to other types of siding.
A choice of the right exterior siding material entails numerous variables. With so many options to consider, you would be wise to consult a contractor like the professionals at Tri-County Exterior. Siding contractors and siding manufacturers are good sources of information and documentation.