WHAT IS A ROOF DRIP EDGE AND WHY IS IT NECESSARY?
January 5, 2020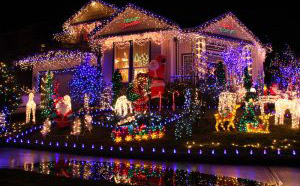 RESIDENTIAL HOLIDAY LIGHTS: INSTALLATION TIPS FOR YOUR SAFETY
January 7, 2020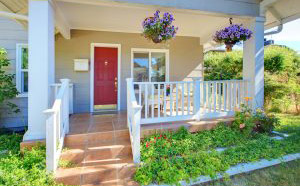 Your exterior doors are what is visible to the rest of the world. They are what people see as they walk up to your home. Exterior doors create curb appeal, energy efficiency and provide an entryway into your home.
You want to choose doors that match your style, your home and offer guests a warm welcome. Because there are so many options to choose from, there are a few tips you need to consider before choosing your doors.
Door Replacement
If your exterior doors have cracks, are warped or rotting or have holes and scratches, it is easy to see that they need to be replaced. However, other door issues may not be as evident. Check to see if there are drafts entering your home around the doors by holding a match, candle or lighter close to the seams of the door and moving it around. If the flame flickers, your door has a draft and should be replaced.
Door Terminology
When you begin looking at outside doors, you may be confused by some of the terminology used. Some common terms used by door manufacturers have the following meaing:
Caming – Strips of metal are used to join segmented glass
Casing or trim – The moulding that surrounds the doorframe
Inswing – The door opens in
Left Handed – The hinges on the door are on the right side
Lite – There is glass in the door
Outswing – The door opens out
Panels – Rectangular patterns on the door used for decorative purposes
Right Handed – The hinges on the door are on the left side
Stop – A strip of wood around the door that keeps it from opening too far
Good First Impression
The first and last thing a guest sees in your home is your entry door. You want that door to make a good first impression. One thing to determine is the best material for your entry door to be sure it is durable and will make that good first impression for many years. Wood gives your home a traditional look but they are expensive and can be costly to maintain. They are also prone to warping and rotting. Steel doors are strong and durable, resistant to fire and do not warp or crack. They are also less expensive than wooden doors. However, steel doors can be boring and must be painted to give an attractive appearance. This means repainting them over time as paint fades or chips. Fiberglass doors are available in styles that look like real wood but without the cost or maintenance. Steel and fiberglass doors are the most energy efficient.
Other Outside Doors
It is important to remember that your front door is not the only entry door for your home. Patio doors are also important as they provide access to your backyard, deck or patio. There are many options for patio doors including sliding doors that allow ample light and ventilation. You can also get swinging doors with large glass panels that allow in natural light. If you have space, a French door leading to your patio can add an elegant touch.
Storm Doors and Hardware
Two things to keep in mind when choosing your exterior doors are a storm door and the hardware you will use. Storm doors are a door's best friend as they protect your door from the elements. A storm door is critical if you have decided to use wooden doors. They also add a layer of insulation to your door. You also want to be sure to choose doorbells, locks, glass and doorknobs that highlight your door and your home décor.
If you need to replace your outside doors, contact us by phone or through our simple query form to learn what options are available. Our knowledgeable staff can help you choose the right doors for your home.