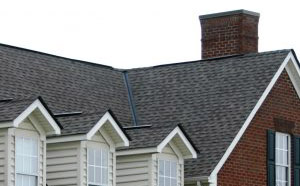 WHAT YOU NEED TO KNOW ABOUT ROOFING VENTILATION
January 3, 2020
WHAT IS A ROOF DRIP EDGE AND WHY IS IT NECESSARY?
January 5, 2020
There are many factors that go into choosing the right siding for your home. You want to choose a siding that is durable and easy to maintain but you also want it to make your home look attractive. Choosing the wrong siding can lead to added expense, damage to your home and impact the look of your home from the outside.
Siding Options
Cedar shake shingles and wooden siding options create a unique look to your exterior, but they also come with higher maintenance requirements. They are also less durable than vinyl or fiber cement options. Cost is also a factor in those types of siding and they are less energy efficient. Therefore, many homeowners choose between vinyl and fiber cement when choosing a siding option.
Materials
Fiber-cement siding is manufactured from wood pulp and Portland cement. The substance is formed into either shingles or long boards and attached directly to your home with nails. Vinyl siding is usually made from PVC, a plastic material that is rigid. The siding allows for expansion and contractions as temperatures get warmer and colder. It has been the most popular type of siding in the United States for 20 years.
Visual Aspects
Fiber-cement boards are available in many styles, including half-round, staggered or square in addition to the traditional long planks. Because it can be painted or stained, you can make the exterior of your home any color you choose. Today, fiber-cement is available in prepainted versions as well. Vinyl has a wider variety of decorative options. This means you can maintain the exterior look if you own a home that is historic or if you want a modern appearance for your home. Recently, popular styles of vinyl siding are those that have the look of real wood.
Energy Efficiency and Durability
Both vinyl and fiber-cement siding are thin, so alone they do not offer much in the way of insulation. However, they are very effective at protecting your home from the elements. Vinyl siding does come in an insulated variety that has a layer of foam added for more insulation. Both types of siding are very durable, although fiber-cement can absorb water which could lead to wood rot under the siding. It is also susceptible to cracking and chipping, even during installation.
Maintenance and Cost
Unless you choose the prepainted version, fiber-cement must be painted. It must also be caulked when installed. You may need to paint fiber-cement as it ages due to fading and you will have to be sure the joints remained caulked properly. Vinyl needs only a spray cleaning with a garden hose. The average cost for vinyl siding, including installation, is just over $200 per square foot while fiber-cement is just over $300 per square foot. Both will recoup as much as 78 percent of their installed cost when you sell your home.
Before choosing a siding for your home, it is important to understand the differences between them. Contact us today for more information on the many different types of siding and to learn what is best for your needs. You can reach us online or by phone to speak to one of our knowledgeable customer service staff.