THE UNDERSIDE OF ROOFING: INSPECTING THE ATTIC
December 20, 2019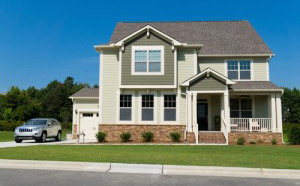 ASPHALT ROOFING SHINGLE COMPARISON
December 22, 2019
Windows are a very important part of your home; they give your home personality and allow your home to be filled with light and energy. However, they can also allow for your hard earned money to fly right out of them, if they are older and not energy efficient. Having the right windows installed into your home that are aesthetically pleasing, functional, and energy efficient will increase the curb appeal of your home and save you money in energy costs throughout the entire year.
The experts at Tri County Exteriors want to help you understand how windows can really help to save you money and increase the comfort of your home for you and your family.
Benefits of installing energy efficient windows into your home include:
Lowering both heating and cooling costs. New ENERGY STAR windows will prevent either cold or warm air from leaving your home, depending on the season. Less energy will be used to heat or cool the home.
Making your home more eco-friendly, with new ENERGY STAR windows will also reduce your carbon footprint by minimizing the amount of resources you use to heat and cool your home to a comfortable level.
Protection for the most important features of your home. This includes things like paintings and pictures hanging on your wall, your furniture, and flooring. ENERGY STAR windows have a special coating on them that prevent UV light from entering your home and over time damaging the items located within.
ENERGY STAR windows allow you to stay more comfortable within your home, no matter what the temperature is outside. The interior panel of ENERGY STAR windows stays warmer than other standard windows, keeping you and your home warmer during the winter. And during the summer they work to reduce the amount of heat allowed into your home, without stopping the light from getting into your home and brightening it up.
Along with being functional and cost saving to your wallet, adding new ENERGY STAR windows can add style and personality to your home. There are many different styles, colors, and types of windows to choose from! For more information on how replacing your home's windows with the right ENERGY STAR rated windows will benefit you, your home, and your pocket book, contact the pros at Tri County Exteriors today!