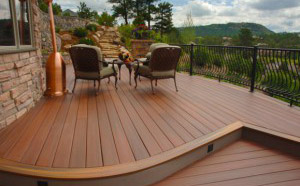 When building any type of deck, the choice of decking materials is an important variable in the equation. In recent years, engineered wood products such as composite decking have become increasingly popular as an alternative to pressure-treated lumber. Manufactured from a mixture of plastic and wood, composite planking is a revolutionary building material that's changing how homeowners look at deck construction. In many ways, it's the ultimate solution to a wide array of problems associated with deck construction.
The Advantages of Composite Decks
Composite deck building materials have many advantages over competing construction options. For one thing, composite boards don't soak up moisture in the same way that traditional boards do. As a result, moisture-related problems like cracking, warping and rotting are virtually eliminated. Furthermore, composite planks maintain their beauty and aesthetic appeal as they age. Finally, composite building materials are made from recycled products, which prevents plastic and wood from ending up in a landfill.
Downsides & Drawbacks of Wood Decks
As attractive as composite decks appear at first blush, the downsides of wood make them even more compelling. In humid climates, wood warps and buckles easily. More importantly, wood requires more effort to maintain its appearance. It's also more susceptible to damage from insects such as termites. Though cheaper at the outset, wood costs more over time when maintenance costs are tallied up. It's also heavier and less resistant to dings than composite materials.
Composite Decks in the Real World
There are two main categories of composite deck boards: solid and hollow. As the name implies, hollow composite deck boards contain internal pockets that reduce weight at the cost of stability. Solid composite boards are heavier but provide superior structural integrity. They also tend to look more like real wood than hollow boards. Both types of composite deck boards use a wide array of pigments, preservatives and plastics such as polyethylene and polyvinyl chloride. All composite boards share one thing in common: they alleviate the vast majority of problems associated with using wood in outdoor deck projects.
The Key to Regret-Free Installation
Constructing a deck with composite deck boards presents its own set of challenges for those not familiar with the material. Employing an expert outdoor deck contractor to do the job correctly the first time is the best way to avoid unfavorable outcomes. A Bucks County deck builder that knows the ins and outs of composite construction techniques is the ideal choice. In any event, few homeowners that opt for composite decks regret the choice.
Would you like more information about composite decks? Send us a message today.